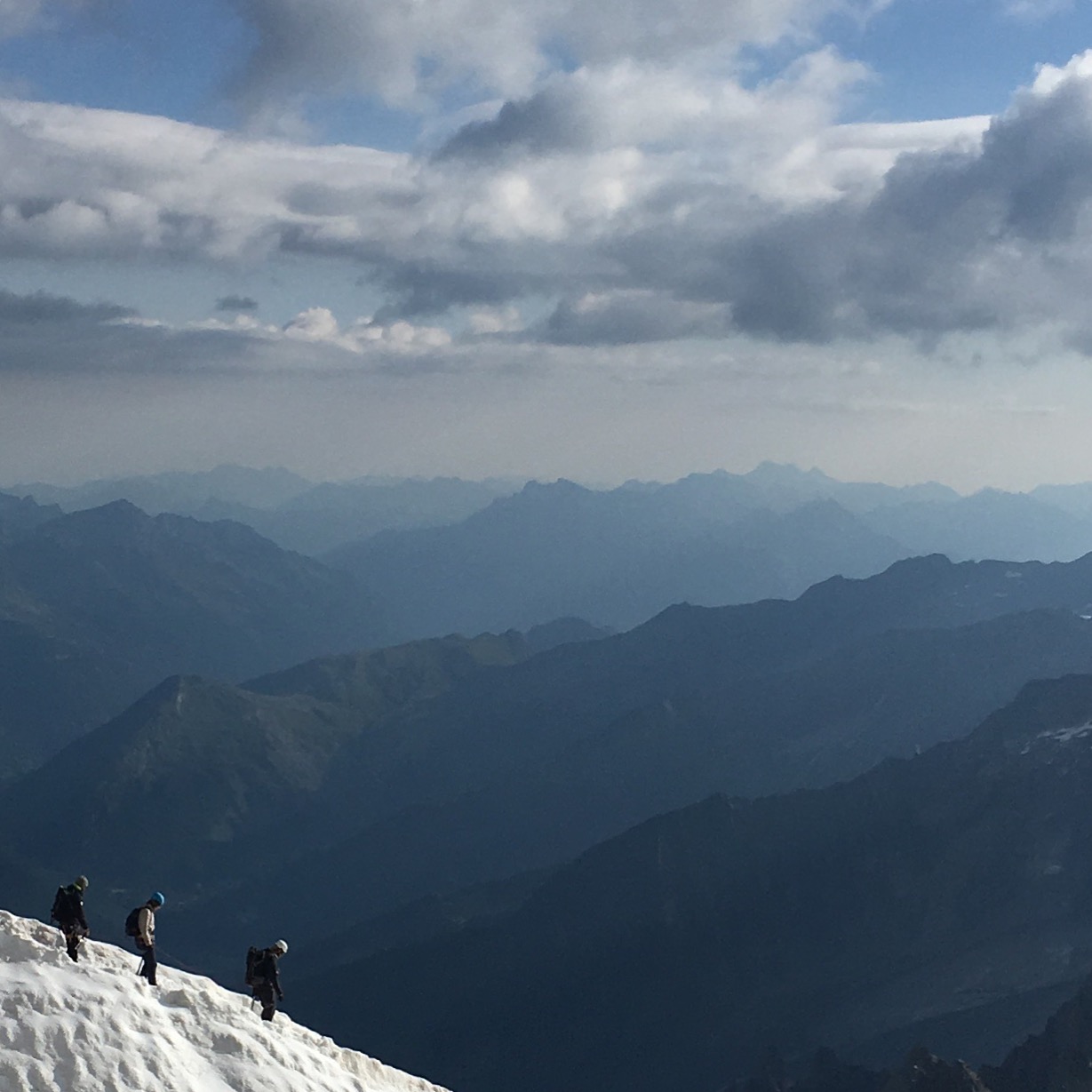 Climbing Mont Blanc (video, photos)

After being an idea for a few years, I finally climbed Mont Blanc. I did the climb with Lars, who has joined Refuga trips to Kilimanjaro in Tanzania and Elbrus in Russia (actually he is the guy who has been on most trips) and through those experiences, we have become friends.
We made a video from the climb, which was via the Cosmique route. Turn on the sound and press play here:

As always, we were a bit late with planning and research. I don't know what it is with young guys, but they tend to underestimate challenges and that was also the case this time. Our original idea was to do the climb ourselves, but we had heard both for and against it (based on our experiences).
The normal route (Gouter) is more of a hike and less technical than the Cosmique route. I think that we could have done the Gouter route ourselves, but we decided on the Cosmique because we wanted to learn something new, get more technical experience and get challenged.
I'm 100% sure, that we couldn't have climbed this route ourselves. We found a local guide (write me if you want his contacts), who was super cool and relaxed. We had sent him some detailed info about our experiences with mountains and tried to describe what kind of shape we both were in. I think he was really good at finding our level and challenging us. The whole experience was a perfect "out-of-the-comfort-zone" experience, pushing us but not going into insane mode.
After missing our bus in Geneva airport to Chamonix we had to sleep in the airport and we didn't arrive until 7 am in Chamonix. After a few hours sleep, we went for an easy hike to get used to the altitude. We went up to 2500 meters above sea level. We had the first day for ourselves and just took it easy.
On the second day, we meet with our guide, cleared everything with gear and took the lift to Aiguille du Midi, where we put on rope and crampons and did a traverse over the gletcher to end up in Italy. From here we just took a lift back. A very easy day, just getting used to the snow, rope etc. (it had been two years since our last trip with crampons).
On day 3, our second day with a guide, we had a small climbing course down in the valley, learning some basic techniques, that we would use later. In the afternoon we went back to the big mountains, to do some ice climbing. The day ended in the Cosmique hut, where we would sleep two nights.
Next morning started with breakfast at 3 am and we left the hut at 4 am, going to the summit. The weather was perfect in the beginning and I was feeling really good. After some hours we had to stop at an ice fall, where there was a queue. It took people quite some time to go up the around 40 degrees slope and it had caused a big line of people. We waited 30-40 minutes before we could continue. It was actually quite a good experience because on very big mountains queuing is often a problem and can be deadly. Just experiencing the queue and how slow things can be in the mountains was a good experience I think.
The icefall was tricky for me. Lars was flying, but I was seriously skeptical about it. You have to climb with your ice axe and crampons and often you hit a big piece of ice, so it breaks off. Going up was quite tough, but going back down the same way some hours later was not fun.
After going up the icefall, where you really use your whole body, I could suddenly feel that I was not super fresh anymore. It was a bit disappointing because we hadn't been going for too long. At the same time the air was getting thinner and thinner. From here we still had a few hours to the summit and some very steep parts.
From here it was more exposed and the wind took on. From here, the rest of the day was extremely windy. Not so much, that it was a problem, but some things get more difficult and your head just become so tired from the sound of wind.
We reached the summit exactly 6 hours after leaving the hut. We took a good break on the one side of the summit platform, looking to Italy. Here we could hide from the wind a bit. We met a few people coming up via the Gouter route. I must admit I was a bit envious of them because they just had a few hours back to their hut and most were going back to the valley the same day. We had approx. 4 hours technical descent to the hut.
The descent was not super technical, but just super steep in some places. And because it had been quite warm, you had a weird mix of ice and soft snow, so it was easy to trip and I did fall a few times. I guess I was really starting to become tired. After that freaking icefall it was easier, but still quite long. We arrived back to the hut 4 hours after leaving the summit, having taken 10 hours exactly hut-summit-hut. I was seriously tired. It was only 2 pm but we sleep most of the day and the whole night.
The next day my body was feeling fine, but my head was tired. It had been pretty technical compared to what I had tried before, so I had used quite a lot of mental resources on that. I was more or less ready to go to the valley and get myself a beer and a burger. It was just 45 minutes to the platform to the lift, from the hut. But our guide had suggested that we would climb a ridge all the way to the platform. A ridge called Cosmique Ridge.
It was pure rock climbing, it was high up and some places were super steep. I'm super happy that we did it because it was a really good challenge (just 5 years ago I was seriously afraid of heights). It was great to get that experience too and to climb some more. It took almost 3,5 hours of climbing to finish it. A really, really awesome way to end the trip.
We were down in the valley for late lunch. Lars and I both agreed that there were now 3 keywords: beer, burger, and wifi ;).
The last day, before Lars had to go, we couldn't just sit at home, so we went for a 5-hours hike.
Mont Blanc was a great experience and I would recommend it to everyone. Compared to hikes like Kilimanjaro you get some more "real" mountaineering and learn a bit about the technical side too. I would recommend our guide to everyone, so just write me if you want his contact info.
Here are some pictures from the trip: